Construction HPS Pump Unit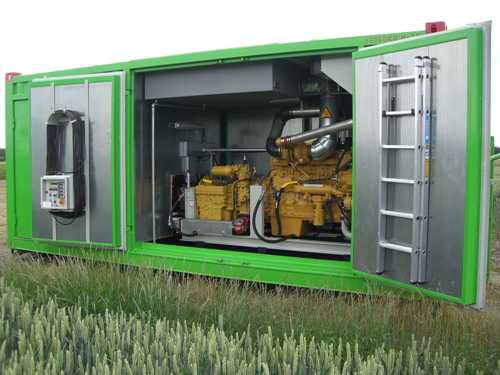 1) Soundproofed 20 ft container, with Detroid Diesel, Mercedes or CAT Engine.
2) Electrically switchable transmission from Allison or ZF.
3) Remote control with 50m kabel.
4) Spezial room for tools and oil.
(By design partly with tool box in the engine room)
5) Additional hydraulics for driving, one feeding pump.
(Will Automatically switch on, when you switch the transmission on)
6) Spare parts kit and tool kit are standard.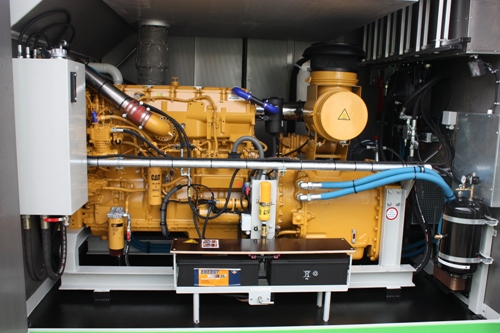 ---
Front right is the cooler room with large-sized cooler (Water / charge air and Diesel). A hydraulic driven fan thermostat controlled, grant sufficient cooling.

Hydraulic and pump oil, shall be cooled by an electrically driven oil cooler.
This provides an adequate cooling of the components is ensured even under extreme conditions.
---
An clearer control cabinet provides information on all important functions and operating states.
Here is among others the selector switch of the electrically switched transmission. Trough an electrical safety shutdown, which can be continuously adjusted, this switched automatically in neutral when the pressure is arrive.
The standard remote control is equipped with 50m cable. Ex remote control and more cables on request.

All remote controls are equipped with the most important functions for the pump. This includes the gear selector, transmission on / off and speed potentiometer engine.
Ebenso werden die wichtigsten Betriebsparameter (Drehzahl Motor, Arbeitsdruck, Liter Minute und Resetbare gesamt Liter) Digital Angezeigt.
Zur Überwachung der Leistungsdaten stehen dem Pumpenfahrer ein digitaler Datenlogger zur Verfügung. Der Datenlogger informiert über die momentan gepumpte Menge, den dabei anliegenden Druck und ein resetfähiger Summierzähler. Diese Daten können nach Einsatzende verarbeitet werden (Tabellen- und Diagrammformat möglich)
---
Jeder Container verfügt über eine Elektrisch zuschaltbare Zusatzhydraulik die unteranderem für das Antreiben der Boosterpumpe verwendet werden kann.

Vorne links finden Sie einen Werkzeugraum mit Spezialwerkzeugen, der auch genügend Lagerraum für Ersatz-und Verschleißteile bietet. Jeder Container wird mit einem Satz von Verschleißteilen ausgeliefert.
---